History of Sun Chlorella
Ever since our Founder Nakayama created Sun Chlorella Corp., chlorella has been extensively researched and its numerous health benefits unveiled.
By combining the best of modern technology and the wholesome power of the sun, we ensure that our products
are the highest quality on the market. Since then, Sun Chlorella has grown to a global network with 16 distributors world wide, with our very own North American branch opening its doors in 1982.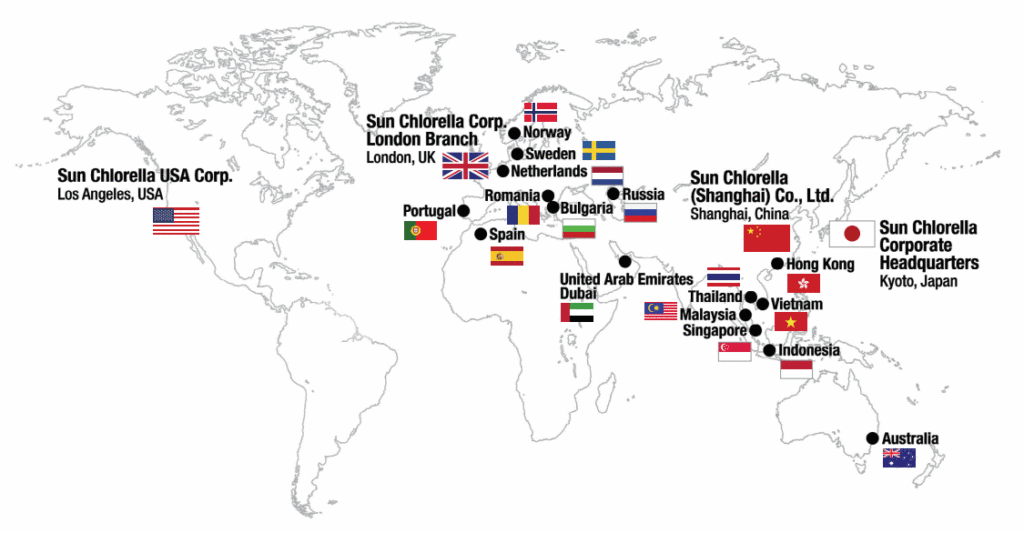 Overseas Offices/Subsidiaries
JAPAN – Sun Chlorella Corporation, Kyoto
UNITED STATES – Sun Chlorella USA Corporation, California
CHINA – Sun Chlorella (Shanghai) Co., Ltd., Shanghai
GREAT BRITAIN – Sun Chlorella Corporation London Branch, London
Overseas Distributors
INDONESIA – Pt. Citra Nusa Insan Cemerlang, Jakarta
THAILAND – Win Win (Thailand) Co., Ltd., Bangkok
MALAYSIA – TJC (Malaysia) Sdn. Bhd., Kuala Lumpur
SINGAPORE – Tisco Pte. Ltd.
HONG KONG – Tisco (HK) Ltd., Hong Kong
UAE – Best Nutraceutical Fzc., Dubai
AUSTRALIA – Desaron Pty. Ltd., Sydney
RUSSIA – Llc Ecodom / Llc Vinokoma, Moscow
SPAIN – Salud Chlorella España, S.L., Alicante
NORWAY – Midsona Norge AS., Moss
NETHERLANDS – Pro Health B.V./Ogystal, Weerd
PORTUGAL – Natris-Centro Dietetico, S.A., Lisbon
SWEDEN – Midsona Sverige AB, Malmö
BULGARIA – Apricus Ltd., Veliko Tarnovo
ROMANIA – Render International S.R.L., Bucharest
VIETNAM – Natural Balance, Pty Ltd., Ho Chi Minh